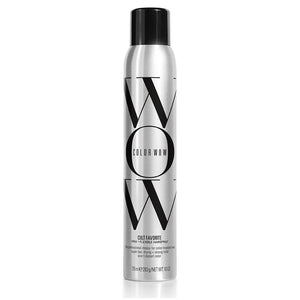 Finally a hairspray that won't darken or yellow hair.

Cult Favorite delivers everything you demand from a hairspray, plus contains no ingredients, found in other hairsprays, that will darken your colour or make it look yellow. Get natural long lasting hold without cementing hair into crispy, rigid, unbrushable style. Reparative formula has hydrolysed keratin to strengthen fragile colour treated hair and hydrolysed silk to fill and smooth hair's surface. UV protection helps keep colour looking WOW.
Benefits:
Super fast drying
Holds style firmly
Zero crunch factor
Comb-able, brush-able, flexible
Light as a feather
Doesn't yellow or cloud shine
Allows hair to move naturally
No flake formula
Works on curly, straight styles and all textures
UV filter for colour protection
How to use:
Shake well, spray from about 10 inches away.
295ml